How to take care of your succulent plants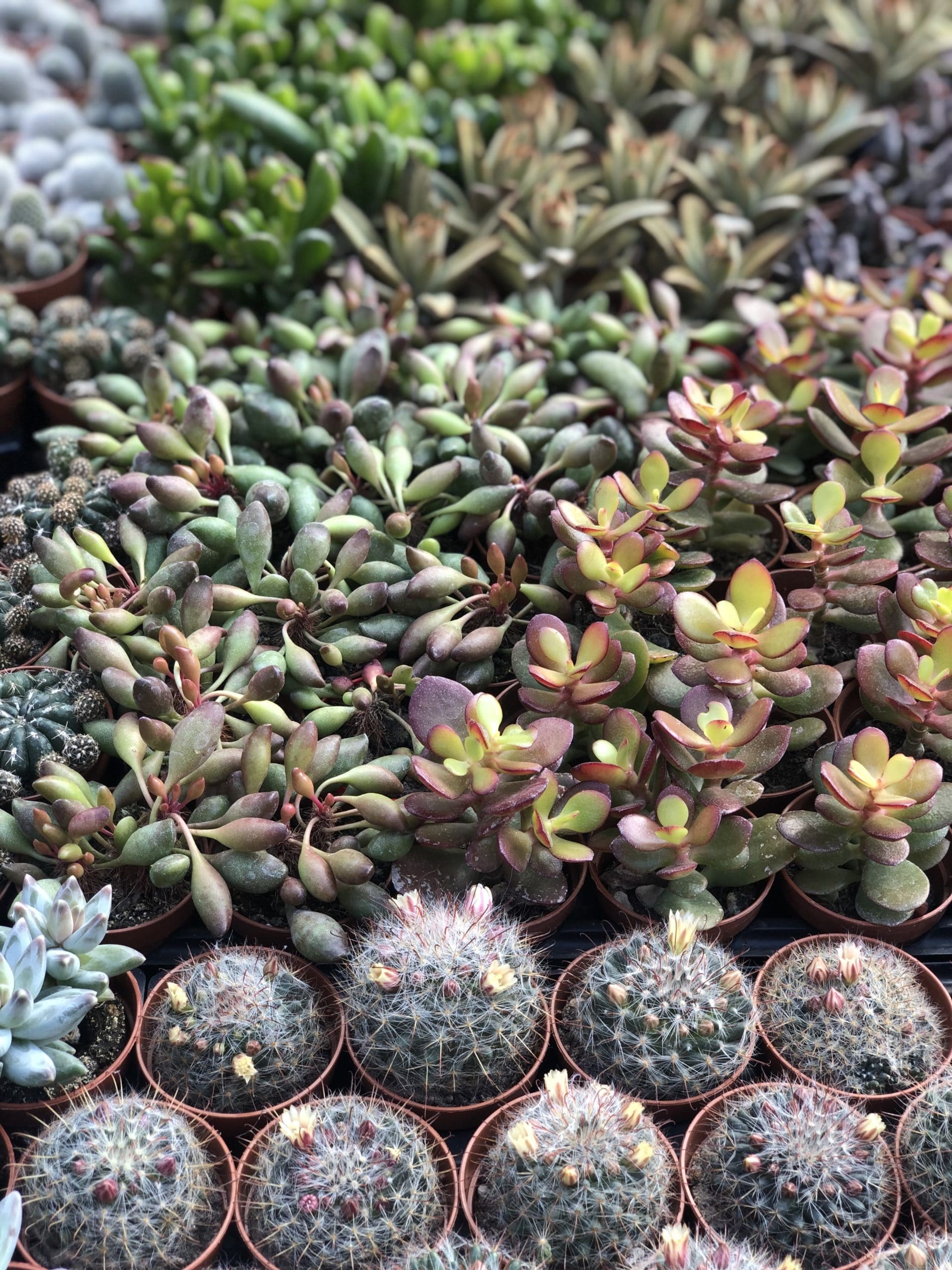 Succulent plants are very popular because in most casesit is very easy to take care of them but also thanks to their curious shapes and their exotic charm.
They are plants native to dry and hot climates, and having to endure the more or less complete lack of water for long periods, they have particular modifications of their structure, the most evident are:
• leaves absent, reduced (often transformed into thorns) or spherical in shape;
• the growth form is compact: columnar, spherical or compact cushion.
Growing mainly in arid and desert areas, where periods of great drought alternate with periods of more or less intense rain, they adapt perfectly to places with low humidity and warm and constant temperatures, such as the interiors of our homes.
In fact, succulents fear humidity, which can cause fungi or molds, so they must be placed in a dry place with good ventilation; as well as with the right brightness..
It is not possible to give general indications on irrigation because depending on the area of ​​origin, each individual species of succulent will have its own period of rest, therefore without water, to be respected.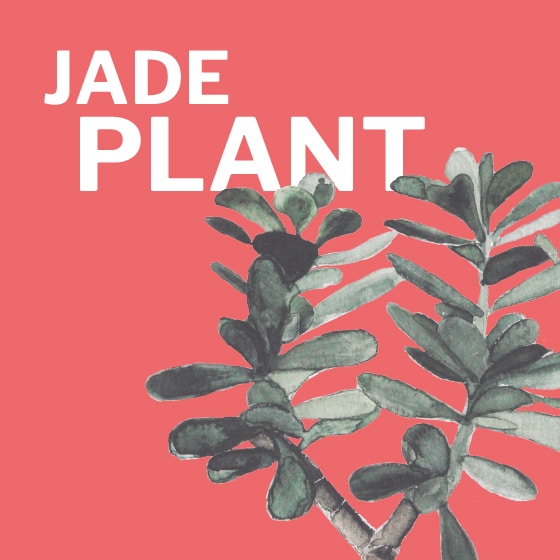 Crassula Ovata, better known as Jade Plant, is a succulent native to southern Africa belonging to the Crassulaceae family.
The jade tree is an extremely popular plant and very simple to grow.
The foliage is composed of oval, light green and very fleshy leaves. Sometimes, the edge of them may have a reddish tint.
Temperature and exposure
Jade Plant is a lover of warmth and air; especially in summer, it is best to place it near an open window if you do not have the possibility to move it outside. It is important that it be placed in a bright area in all seasons of the year, but in summer it is advisable to move it away from the direct influence of the sun's rays so as not to burn the leaves (e.g. not behind the glass of a closed window because the concentration of the rays would be too strong).
Watering
Crassula is watered in moderation, from March to September, only when the soil is dry. From mid-November to mid-March, irrigation must be suspended until spring, to respect the vegetative rest period.
It is important not to leave the soil too wet or standing water as water stagnation is not tolerated and causes root rot.
Curiosity
In China it is considered a symbol of good luck, also commonly called the money tree because it is believed to bring prosperity, wealth and luck.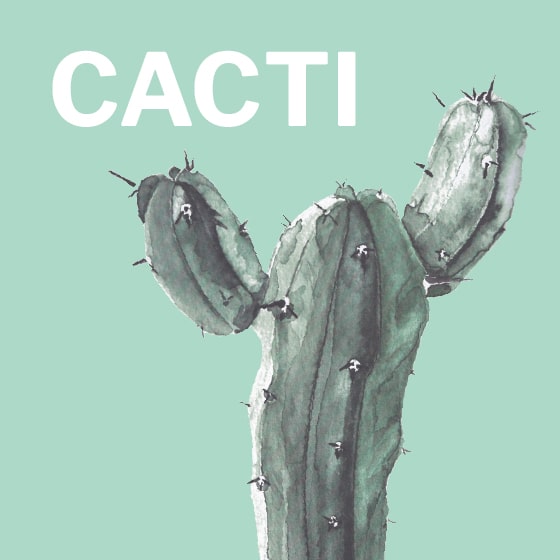 Commonly called cacti, Cactaceae are unusual and easily identifiable plants that have managed to adapt to extremely arid and hot environments, developing different physiological and anatomical characteristics to conserve water. Their stems have adapted, becoming succulent and photosynthetic, while the leaves, very often, have become thorns, one of the most distinctive features of the plants of this family. They come in very different shapes and sizes, from small and globular to large and columnar.
Temperature and exposure
Cacti require ventilated, bright and sunny environments with a very low level of humidity.
During the summer it is advisable to place them in a bright place but not in direct sunlight, so as not to expose them to too high temperatures: the optimal ones are between 25 and 32 °C. During the winter, however, the majority of cacti go into dormancy, therefore they need a complete rest, good ventilation and should be kept between 0 and 15 °C.
Watering
In summer, the cacti should be watered every 10-15 days, while allowing the soil to dry out completely between one watering and the next. In autumn and spring they should be watered sparingly. During the winter, however, the water supply must be reduced as the cold increases: the soil must be kept dry and the water must be given only once a month, otherwise with damp soil, the cold will do a lot of damage.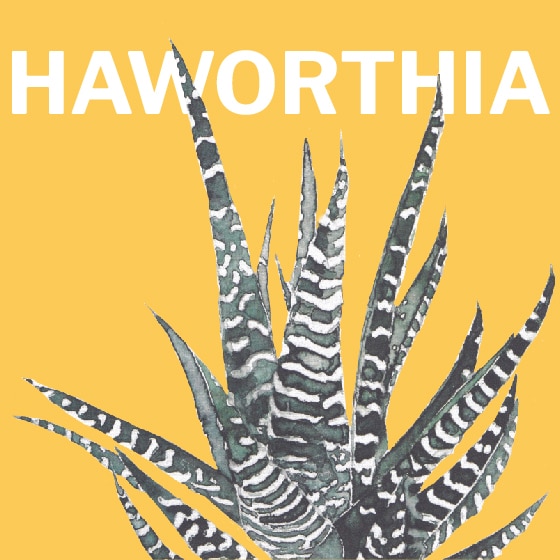 Haworthia are succulent plants native to South Africa belonging to the Xanthorrhoeaceae family. They are small plants with fleshy leaves and a rosette-like habit, easy to grow and perfect indoor plants for ornamental purposes. Perfect if you are looking for a plant for "beginners".
Temperature and exposure
While most succulents love full sun, Haworthia is best suited to semi-shade conditions, so it is perfect as indoor plant. Intense light and heat can cause burns that are easily identified by the reddish coloring of the tips.
Watering
At the end of winter, during the period of maximum vegetative growth, it is necessary to irrigate more frequently (every 10-15 days), however, leaving the soil to dry out completely between one watering and the next. During the warm months, however, you can leave more time between one watering and the next (about once a month). However, the plant can be vaporized.
During the winter, irrigation can be suspended almost completely.
Curiosity
They look very similar to Aloe and Gasterie, in fact the identification of these species is sometimes difficult due to the numerous hybrids found in nature. The origin of the name of the Haworthia is a tribute to the botanist Adrian Hardy Haworth, one of its earliest scholars.
Hoya Kerrii, renamed in some garden centers as "Hoya Lucky Heart" due to the particular heart shape of its leaves, is a climbing houseplant from rainforests in the warmer regions of Asia, Australia and the Pacific islands. The starry flowers, gathered in umbrella-like inflorescences at the axils of the leaves, are waxy, fragrant and very particular that last a long time.
Temperature and exposure
The Hoya does not require special precautions: it wants a lot of light, without direct sun. The ideal temperature in summer is 27°C while in winter it must not drop below 10°C.
Watering
Watering must be regular in summer, it should be wet and sprayed regularly, keeping the soil moist but avoiding water stagnation.
During the cold months, on the other hand, it should only be wet when the soil is dry.
Small and delicate wild flower with intense blue petals, Forget-me-not (from the Greek Myosotis which means "mouse ears" due to the shape and softness of its leaves) is a symbol of remembrance, love and hope.
Temperature and exposure
The Forget-me-not to be able to bloom profusely prefers sunny places but sheltered from the wind and direct sunlight. It is therefore advisable to plant it in a partially shaded area.
Watering
It loves moist but not soggy soil so you need to water regularly but without excess at least once a week in the spring and several times in the summer months. The frequency of watering must also take into account the local climatic conditions and the soil used.
Curiosities and tips
After sowing, the surface of the soil will need to be steamed and aired every day. It will take about two weeks for the first shoots to emerge.
The flowering of Forget-me-not is very long-lasting. The flowers, in fact, bloom profusely from spring to summer.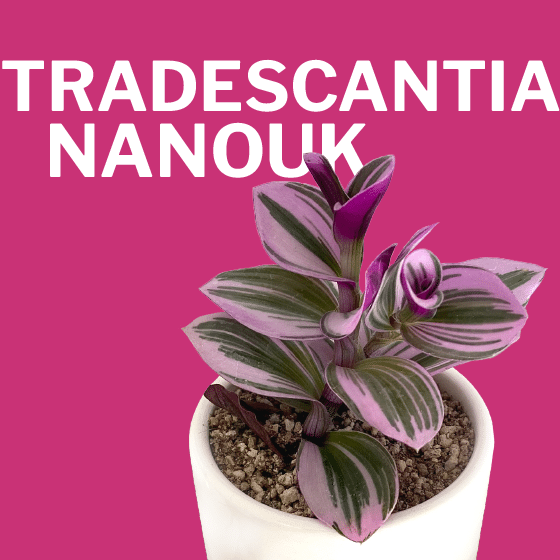 Native to South America, Tradescantia Nanouk is able to survive very difficult conditions and is one of the most resistant and easy to grow indoor plants. Its fleshy leaves have an emerald green color tinged with pink, purple and cream.
Temperature and exposure
Tradescantia should be placed in very bright places but not affected by direct sunlight that could burn the leaves. To avoid the loss of color of the foliage, environments that are too shady are not suitable.
Watering
When needed, without excesses or stagnation. It requires frequent watering in spring and summer, taking care to avoid water stagnation. During the autumn-winter period, however, watering should be reduced by approximately, the plant is in vegetative stasis and can withstand even a moderate drought.