Choose a project, cultivate your commitment.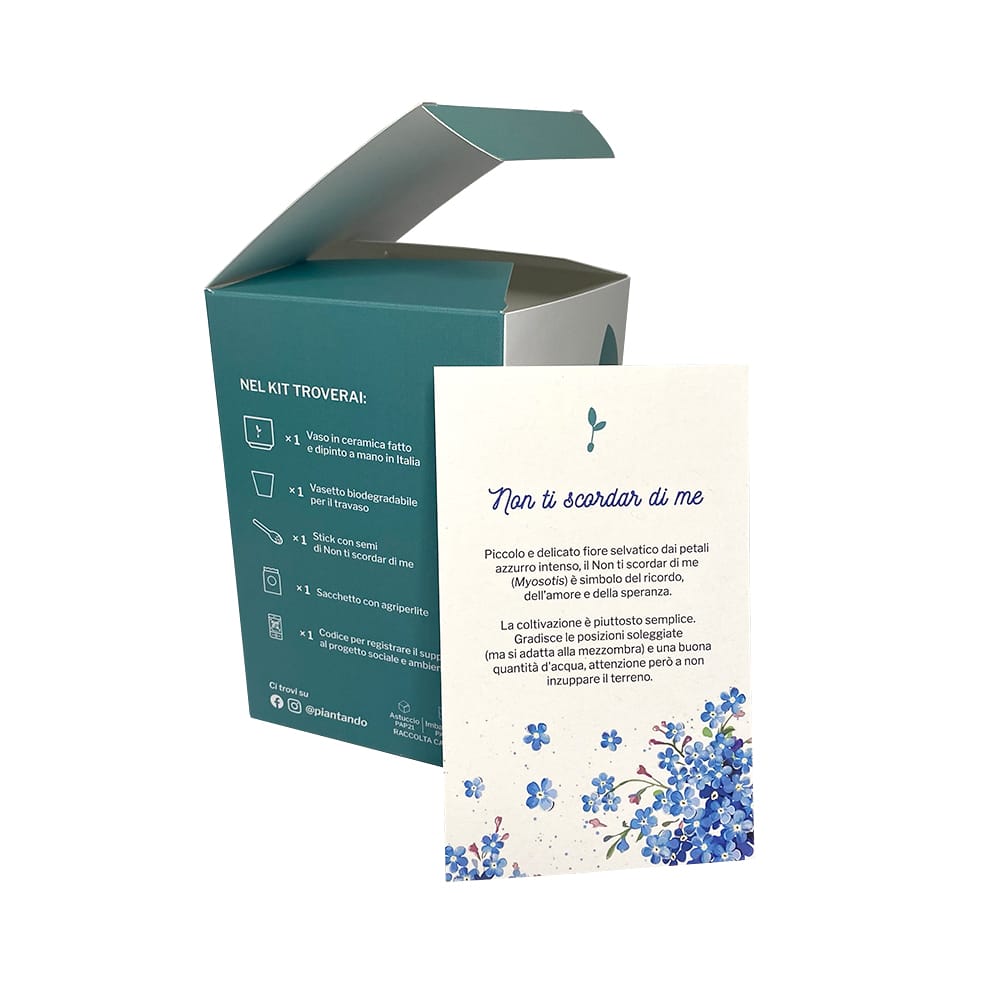 Don't forget me (and the planet)
Forget-Me-Not are the protagonists of our kit in support of environmental and social projects: delicate flowers and at the same time resistant to even the coldest temperatures, represent the living symbol of the commitment made with us.
A product that does good thanks to our projects and concretely helps small local businesses of artisans. Each vase, in fact, is different from the others and unique in detail because it is handmade by skilled potters from Castelli (TE), who carry on a 500-year tradition. Even our logo is hand painted.
Find out more about our vases on the » Castelli « page
Tiny flowers, but capable of dyeing an entire lawn blue: Forget-Me-Not teach us that change can come from even the smallest things.
Already by the Ancient Romans it was defined as sacred grass, a symbol of salvation from all that could sadden or grieve, while in England, during the Middle Ages, it was given as a talisman to those who were about to leave for long journeys.
Today these flowers are the symbol of eternal love, capable of going beyond all limits and being remembered forever. Perfect flowers to remember an endless commitment: the one with our planet.
KIT contents:
– Ceramic pot (Ø 8cm) made and hand painted in Italy
– Forget Me Not Seed Sticks and Growing Tools
– Unique code to certify your commitment
– Instructions for germination and growth of the plant/u>
Terms of payment:
Safely by credit card, Satispay, Paypal or bank transfer.
The cash on delivery service is not active.
Other:
• Inside the package there is no reference to the transaction, all payment details are sent to the email indicated during the purchase.
• If the order is a gift, check the box "Make this order a gift" and add any message for the recipient. It will be added for free inside the package.
Tempistiche:
Delivery is guaranteed within 48 hours from the departure of the shipment, you will receive a confirmation email when the order is shipped.
We ship every week, generally, from Tuesday to Thursday.
If you need to receive your order on a specific date, write it in the order note.
We don't ship on non-working day.
Costs:
Shipping is free in Italy.
Shipments to abroad have an additional cost depending on the destination:
+10€ to Austria, Belgium, France, Germany, Greece, Ireland, the Netherlands, Portugal, Spain and Sweden
Kit:
We recommend that you follow the instructions inside the package to facilitate sprouting and healthy growth of the seedling.
The results in terms of germination and growth depend on various factors, such as the sowing period, the depth of planting of the seed, irrigation, sun exposure and climatic conditions.
Pot:
Our pots are hand made and painted inCastelli, a village with a centuries-old ceramic tradition in the province of Teramo (Abruzzo). They have a diameter of 8cm and are 7.5cm high.
In this video you can find out how they are made.
Box:
The kits are packaged in a cardboard box with 9x9cm base and 14cm height.